Shopping Basket
Your Basket is Empty
There was an error with PayPal
Click here to try again
Thank you for your business!
You should receive an order confirmation from Paypal shortly.
Exit Shopping Basket
The Sonoma County Sheriff's Department is afraid of this web site. And well they should be. For in it is the stuff that will finally expose them as they truly are: the corrupt servants of organized crime. The secret goings on at the Sonoma County Sheriffs' insular and inbred white world of which only they, brothers in arms, can ever fully know and appreciate.
It falls unto this lowly blog to be the only voice in the wilderness of the corruption that is the essence of the Sonoma County Sheriff's Department. The time has come to disband the former and transfer all of its duties and assets to a single police entity. One that will be responsible to the needs of the people pictured below. Doesn't that look like the end scene of the original Frankenstein's monster, where the townspeople, fed up with the monster, are forced to take matters into their own hands?
While the Sonoma County Shecriff's Department go about their duties well enough, though even this assertion might be challenged by the families and friends of the late Andy Lopez, at any moment, when their markers are called upon, they can and will turn upon an innocent civilian if the price is right, and it always is with the vast deep pockets of organized crime.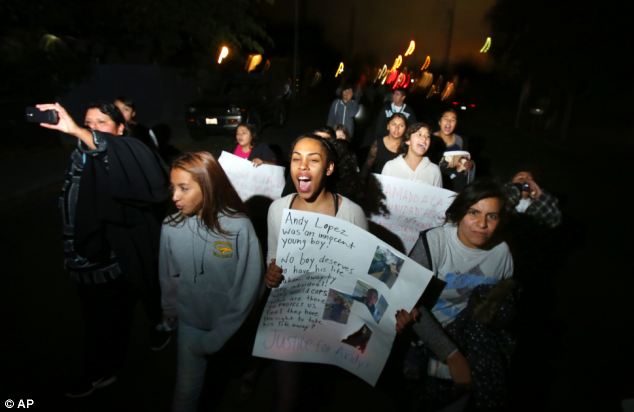 The Sonoma County Sheriff's Department have become the enemy of the people because their underlying structure has been usurped by the virtually endless supplies of cold hard cash that organized crime can muster at the drop of a hat or the fall of another wide-eyed recruit to the reality of big money, big deceptions and the entrenched bribery residing therein. Easily flown in from the Cayman Islands by a fronting geological services firm like so many pipe bombs and forwarded through the Charles M. Schulz Sonoma County Airport cleaned up for distribution by those who so expertly ran the check-cashing businesses of Jamaica, Queens and Brooklyn, New York and defrauded the unsuspecting and relatively helpless black welfare recipients there by charging an extra ten cents for each and every check that they would cash. Wherein they also sold money orders by a firm called USN. Where the treasurer, also happened to be the owner of the check cashing stores as well as the owner of the armored car services that supplied the money for the checks to be cashed. Eventually collecting enough money to choke several herds of horses, finally tiring of the game, they decided to retire with one last, monumental score. Pulling out all of the stops and strings, they efficiently vacuumed every last cent of the money order company's treasury and hopped a well-planned flight to the Cayman Islands. This of course didn't sit too well with people trying to cash their money orders. But alas their was nothing to be done as from top to bottom what passed for the legal system of the Empire State back then in the mid nineteen seventies had already been well greased indeed. Resulting in a relatively comfortable if inconvenient few month stay in one of New York's well-apportioned country club prisons for the errant treasurer. But there was a happy ending in Scottsdale, Arizona for the benefactors of the scam and a lot of wringing and gnashing of teeth in this and that area of New York City, its adjoining Burroughs and also at the affected businesses left out on the financial limb as distributors of the now worthless USN Money Orders.







There are two kinds of murderers.

Those who do it for fun

And those who do it for profit

They're both.




There are two kinds of sadistic murderers.

Those with little money that limits their activities to small geographic areas

And those with money, which crowns their efforts with a success unavailable to their poorer counterparts

 




So these Napoleons of crime now amuse themselves with their billions of dollars in largess by investing in the employees of the Sonoma County Sheriff's Department and in creating new havoc in Sonoma County and beyond, such as operating a jet maintenance facility at the Charles M. Schulz Airport and in creating a huge consortium of ambulance services. Thus double dipping, the employees of the Sonoma County Sheriff and their families will never have to want for anything. Thus enriched from the coffers of the wicked, the members thereof care nothing for the damage that they do, and it is exceedingly great. Oh, no. Because they and their loved ones are set for life, after all, that is what is most important, isn't it?

 




The Time Is Right To Disband The Offices Of The Sonoma County Sheriff

;

There would be a huge savings in administrative and a myriad of other costs and expenses attained by folding the Sonoma County Sheriff's Department into the Santa Rosa Police Department or dividing up its assets and budget to other local police departments to assume the former's duties and administrations. Not only that, it would be of an enormous psychological benefit to the communities now served and sometimes abused by the Sonoma County Sheriff's Department. Because what's in a name anyway? After all, isn't the office of sheriff itself indelibly associated with that of the wild west and hence of the ideal of the shootout. And though none would probably care to admit it, isn't it natural for the idealist recruit to identify himself with that august personage of Wyatt Earp? This ethos is a disease that promulgates the gunfight as an acceptable and even a desirable law enforcement conclusion. Hence the doing away of the title and of the office of the Sonoma County Sheriff will send a distinct message that gunfights are not to be tolerated and are to be avoided if at all possible rather than cultivated by holding them up as legends.

 

Unless you are black, you may take for granted that the police only operate on one side of the law. Of all citizens of the United States of America, the African American, (and some in the Roseland District of Santa Rosa still have lingering questions about the unjust killing of a teen by a Sheriff's Deputy there.) holds the most evidence that this is a farce.

The problem is just like Al Capone of the Heartland. Unless the crime boss makes a mistake, there is no way to stop the institutionalized murder of blacks by police and of others whom organized crime orders the police to do away with. Even then it is still nearly impossible. For the police, Internal Affairs notwithstanding, will never do the real police work required of policing themselves. It's bad for their business. What real motivation do they have in bringing to justice themselves? It is easier for the Sheriff to stop the crime of the city and county than to stop their foot soldiers from reaping in their booty.

The question arises how did Elliot Ness ever do it? The answer now is did he even do it?

The unfortunate truth is that the Sonoma County Sheriff's Department in addition to admirably, though again some friends of Andy Lopez might beg to differ, plying the role peace keepers, often sew just the opposite. For many if not all of the Sonoma County Sheriff's Department are moonlighting for the proprietors of a lucrative murder for hire organization. For what better cover if you are a criminal than the comparative sheep's clothing of the Sonoma County Sheriff?

 

Sonoma County Sheriff: License To Kill

;

Duplicity of powers and of titles empowers duplicity of enforcement and two sets of police adding to the confusion of the public. One police department, not two is the best solution. That's what the Sonoma County Sheriff represents, the two-faced nature of the law; one for the haves and one for the have-nots, one for the whites and one for the blacks. A separate entity as Sonoma County Coroner might well have turned in a different verdict in the shooting of the youth Andy Lopez. Than that of a not uninvolved fellow Sonoma County Sheriff's department official, one hand washes the other. Today February 12, 2019, a hypothetical corrupt Sonoma County Sheriff with his practiced administrative hand could easily write off the killing of blacks for target practice as "resisting arrest" or "accidental death" or "death by natural causes" with the mere click of a mouse.

;

One Police Department To Administer One Standard Of Justice




Why is there a need for the duplicity of police departments that constitutes maintaining both the Offices of the Sonoma County Sheriff's Department and the Santa Rosa Police Departments? As noted above the very concept of the sheriff's department is an outdated notion at best. Either one or the other must go; the police department or the sheriff's department. Why should taxpayers continue to pay to keep two of everything? Think of the money to be saved by doing away with this duplicitous formula all together. Why not just move the current assets and administration to one police department? No more confusion over who is doing what. If there was no Sonoma County Sheriff's Department, the killer of Andy Lopez could not have escaped so easily through being lost in the cracks of the legal ping-pong game played by and between the Office of the Sonoma County Sheriff and other departments of law enforcement.

 

The duplicitous ping-pong game of bouncing one case of an officer involved shooting or homicide for judgment/whitewashing from one law enforcement agency to a fellow or sister law enforcement agency is one example. That shuffling off of such difficult scandals is law enforcement's best tool to hide their own wrongdoings and corruption. By eliminating the Offices of the Sonoma County Sheriff's Department this legal shell game would be severely hampered.

 

Therefore is the urgent need to disband the Offices of the Sonoma County Sheriff's Department. For what good is maintaining two wholly separate competing police forces when their members employ their differences as legal ping-pong balls to stymie the public right to fair police procedures?

 

The Office of the Sonoma County Sheriff is a regrettable holdover from the lawless days of the Wild West when shootouts were the norm whose time has ended like that of so many blacksmiths. After all, Sonoma County taxpayers probably could find some cheaper entity to abuse their prisoners.

 










Categories: None

0

/